The ONLY typing curriculum that teaches brain compatible typing using the Bible!
Color-coded keyboard helps students keep their eyes on the chart instead of their fingers or the screen.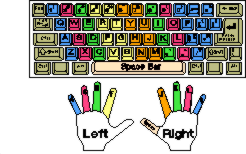 | | |
| --- | --- |
| Bible Based | Your child will learn to type using Biblical principles, Scriptures, and Christian history. Your child can begin as soon as they can read. |
| Unique Method | Bible Type's unique teaching method avoids the left/right confusion your child may experience from mirror image instruction methods in other programs. Great for all learning styles and abilities -- whether your child has superior reading skills or dyslexia -- whether your child is bright or challenged -- Bible Type has proven superiority. |
| Color-coded | Bible Type's color-coded keyboard on each chart helps your child easily see the correct fingering of each new key. |
| Self-paced | Your child will never feel rushed or bored. Bible Type allows your child to learn at their own individual pace. |
| Proven Effectiveness | Bible Type's unique teaching methods have been proven to work by thousands of students in first grade through high school; in Christian schools and homeschooling! |
"I bought two different typing programs for my children to use. Both were quickly put aside. Finally, I have found the best typing curriculum. This Bible-based typing curriculum is great! The color-coded keyboard on the charts has made it easier for my children to learn typing. The best part is that they are typing God's word as they are learning a necessary skill."
Susan Liva
Lexington, SC
"This typing book has taught me how to type without looking at the screen or the keyboard. When I needed to copy a quote from a book, I did not have to continuously look back and forth between the book and the screen."
Jenica C.
Watauga, TX
Only $29.77!
Click here to see sample pages in Bible Type
Order two typing books and get 10% OFF - plus FREE shipping (USA only)
Order your Fun Math Manipulative Kit Today. $127.77
Finished shopping. Return to the Shopping Cart.

SECURE & CONFIDENTIAL

Your e-mail address will never be rented, traded or sold.
WE GUARANTEE YOUR CONFIDENTIALITY
Refund requests for physical products purchased directly from us will be promptly honored

as soon as the product has been received by us in new condition. Shipping charges will not be refunded.
Contact Type Terms And Conditions Type Privacy Policy Type AntiSpamPolicy Type DMCANotice Type External Links Policy